FREYA VOM MUTTER HAUS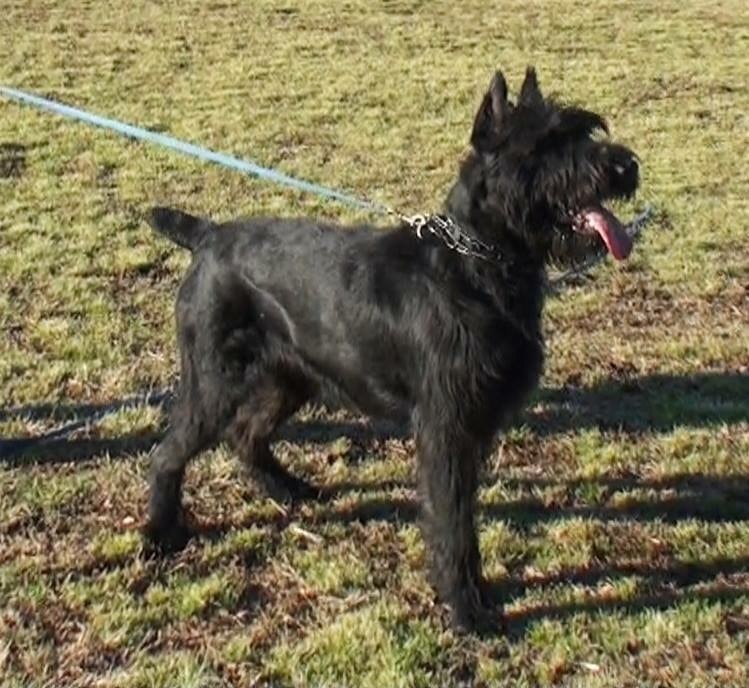 Freya is a very nice square bitch, with allot of bone, perfect shoe-box style head, nice front a larger size girl. She belongs to the imfamous F-litter which was such a hard breeding that I got 5 of the pups back due to their high energy and hard temperaments. Freya is an outstanding girl and is now working on the Schutzhund field and looks very promising with BH and IPO 1 in the near future. Freya is co-owned by Deb & Lyle Roetemeyer and they are doing an excellent job with her.  We are looking forward to Freya someday producing some awsome pups!

Freya has been spayed due to an injury reaccourance

Hips OFA GOOD

Elbows Normal

Cardiac Normal

Thyroid Normal

BH,


********************************************************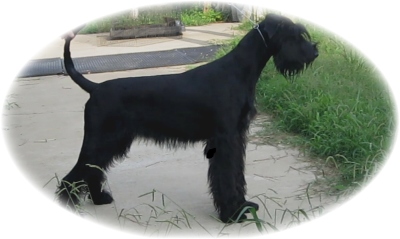 BABBU DACHES DREAM

Babbu is a Czech Import, she is a biting machine, fast and accurate, she will bait you in and before you know it, she has you!  Her temperament is very sweet and willing with a ball drive like non other. Babbu is working toward her IPO I

OFA hips Good

Thyroid Norml

DCM Clear

BH

Babbu is the dam of the "F-Litter"


************************************************************

DANCING-QUEEN VOM HEXENWALD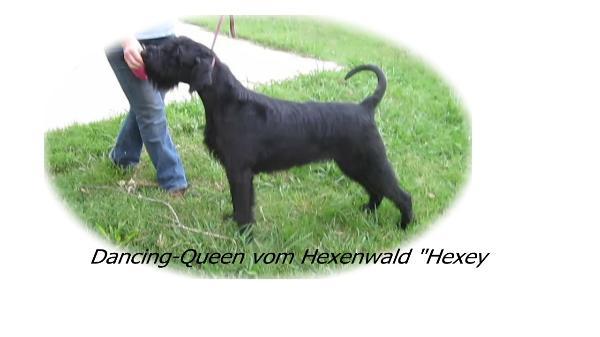 German Import Hexey is a powerhouse! Her muscle tone is exquisite, she is like a rock! She is a true natural athlete; her full body strides will put other dogs to shame. Fast effortlessly she can race from one end of the pasture to the other and stop for a swim and be back before we knew she left our side! Awesome speed! She can bound to the top of the wall, not using the climbing rungs. She thinks the jumping is so much FUN! Hexey has a happy go lucky attitude waiting for the next fun thing to do. She does the typical schnauzer circle run stopping to bow her front down and change directions.She has great front and rear angles, tight cat feet, strong topline-tail set . Hard straight coat. Dry yet powerful neck. Her eyes are dark in color, almond shaped. Good head planes. Correct dentition. She is very personable and loving.

                                                 RETIRED

Hexey has

OFA Good hips

DCM-Clear Normal

Thyroid nml

BH


*************************************************************************************************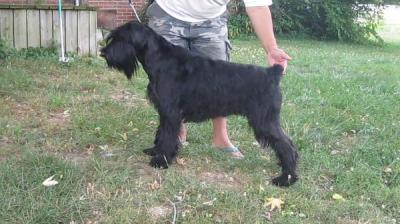 Ursa Vom Mutter Haus is out of KoKo Vom Mutter Haus and Tara's Peacemaker (Barney). Ursa is my little pride and joy, she wakes up with a smile on her face and that is the last thing you see at night before the lights are out. Always thinking and sharp as a whip! What character this one has, she can bring tears to your eyes from laughter!  She is an awesome tracker, just natural ability. She jumps the high jump and climbs the wall just for fun with a smile on her face and a Look at me attitude. I could not have asked for a nicer girl to team up with! Ursa's conformation is very nice smaller in size, square and compact, good angleation, parallel head planes, correct teeth, dark eye, hard coat, awesome athletic ability and fast! We love our Ursa!

BH

OFA Good

Thyroid Nml 

DCM Heart Clear                              Deceased


*********************************************************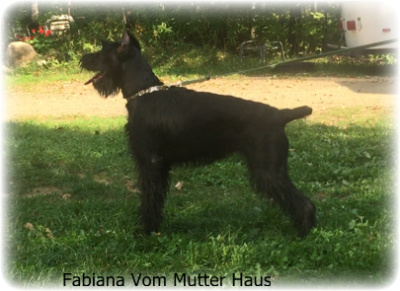 FABIANA VOM MUTTER HAUS

Fabiana is a high energy girl, no nonsense here.

Extreme ball drive like her mother Babbu!

She is a force to be reckoned with, challenges my knowledge every day.

Very square, compact bitch, nice head, proper dentition and nice strong back, correct tail-set. FAST, oh yes very fast! She resembles her mother Babbu in energy and ball drive. We feel she will be an excellent addition to continue our breeding program for the working dogs.

Fabi is;

V Rated

OFA Hips GOOD

PRA-Prcd eyes CLEAR

Thyroid NORMAL    

Fabi will be bred in Fall of 2019